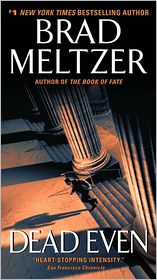 One of the conversations I have most often with fellow readers revolves around the question "read anything good lately?" It's an odd thing because we all shop at the same stores and see the same displays but we're all drawn to different authors. The result is a lot of great authors that many of us have never heard of or may have not known what they write. One of my favorite things to do in a bookstore is search the shelves for some of these hidden gems including our #2 most underrated author, Brad Meltzer
.
Code 451's Most Underrated Authors
#5 Patrick Lee
#4 Harlan Coben
#3 John Hart
#2 Brad Meltzer
Brad Meltzer is a fairly well known author due, in large part, to his television show on the History Channel, Decoded. However he does not get the hype and attention he deserves as an author. In the world of legal thrillers, Meltzer trails only John Grisham and Scott Turow as the finest author writing today. His work is thoughtful and compelling without being tedious. Dead Even
and The Tenth Justice
, Meltzer's first two novels, are simply fabulous.
I place Brad Meltzer in the legal thriller genre because his characters are typically attorneys however at the core; his work is as much political intrigue and thriller than anything. Perhaps his most highly regarded novel to date, The Zero Game
; is a perfect example. Matthew Mercer and Harris Sandler are young hotshot, Washington insiders involved in a secret game until another player turns up dead. Now Harris and Matthew are trapped in a deadly game dependent on a 16 year-old senate page to restore their lives.
For my money, Meltzer is a top flight author and any avid reader of fiction should give him a shot. He'll keep you riveted and up way past your bed time to uncover the next twist!
Brad Meltzer's Novels:
The Tenth Justice

Dead Even

The First Counsel

The Millionaires

The Zero Game

The Book of Fate

The Book of Lies

The Inner Circle

The Fifth Assassin (January 2013)
If you like Brad Meltzer, try
Please send any questions or comments to Jeremy R Woods.